Professional Appliance Repair in Brantford
Same Day Brantford Appliance Repairs
At HandiFix Appliance Repair, we understand that you depend on appliances like your fridge, oven, and washer. When at least one of these fail, rapid repairs are essential which is why we offer same day appliance repairs in Brantford. Regardless of the make or model, you can rely on us to arrive promptly to perform reliable repairs immediately. You can depend on us for same day stove, dryer, dishwasher, and refrigerator repairs. From Samsung and Bosch to LG, Whirlpool, and more, we repair them all!
Thanks to our experience and training, we are able to provide fast and reliable household appliance repairs.
Call us at (647) 557-3032 for prompt and professional repairs.
Why You Need HandiFix Appliance Repair?
Our same day appliance repairs in Brantford means that you'll be able to use your appliance again before you know it.
Our goal is to repair appliances on the spot which is why we arrive prepared with tools and parts to complete repairs immediately.
Our number one priority is the satisfaction of our clients. Not only do we work quickly, but we also pay attention to every detail in order to ensure that our work is absolutely meticulous as well as affordable.
We arrive prepared with tools and parts to repair any household appliance on the spot.
We offer a free service call with every appliance repair.
HandiFix Appliance Repair is a family-owned business which gives us a greater understanding of the needs of our clients while keeping costs as low as possible.
Urgent Brantford Appliance Repairs
HandiFix Appliance Repair offers speedy service throughout Brantford. No matter where you are in the area, our team will come out the same day and get right to work on the problem. Our goal is to perform professional and reliable repairs during our initial visit.
Reliable Appliance Repairs
When you need an appliance fixed, the last thing you want is for it to break down again shortly after. We understand how much our clients value quality work which is where all our training and experience comes in. Thanks to our vast knowledge, we are able to perform repairs swiftly without cutting corners.
Experienced Appliance Repair Technicians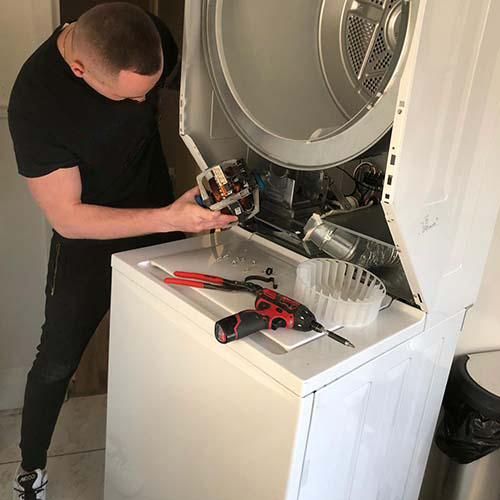 Our experience means that we have a hands on understanding of how all household appliances work and what makes them tick. In turn, this means that we are able to work quickly to resolve the problem.
Fridge Repair
Dryer Repair
Washer Repair
Oven Repair
Stove Repair
Dishwasher Repair
Get in touch with us at (647) 557-3032 for Brantford appliance repairs.
I have a Samsung washer that just stopped working. I'm not sure if it's worth fixing. Is there someone in Brantford able to help me figure out if I should repair it or get a new one?
We're sorry to hear that your washer stopped working, we understand how frustrating that is when you have laundry to be done. We definitely have someone in Brantford who can help you figure out if it is worth repairing or not. 
I live in Brantford and I am in need of assistance installing a new oven in my kitchen. Do you offer a service for this?
Of course we can help you with installing your oven in your kitchen. We offer an oven installation service in Brantford and the GTA. Give us a call and we will send a technician to help you with your oven installation! 
My dishwasher is not working. I noticed a burnt rubber smell and then it stopped working. Can you fix this?
We can definitely help you with this. A burnt rubber smell is a sign of a failed motor. The motor assembly contains a number of components that can fail, including the starter capacitor and motor itself. We will send one of our repairmen to fix your dishwasher as quickly as possible.
I have an induction cooktop. There was a loud popping sound and then it stopped working. Is there anyone in Brantford who can help fix it?
We have repairmen available in Brantford who can help fix your induction cooktop. This is a very common problem and we will be happy to come and do the repairs for you as quickly as possible so that you can get on with your day-to-day activities.
My dishwasher has a leak of dripping water while it is operating. What should I do?
We are sorry to hear your dishwasher is leaking, we completely understand how frustrating this problem is for you. Please give us a call and we will send somebody over to your home immediately to fix this problem for you. Please do your best to clean up the water and remove all of the water from the floor, and be careful not to slip. We do not want anyone to get hurt.
I live in Brantford and my front load washer won't spin. Is there someone who can fix this?
There certainly is someone who can help you fix this issue. We have technicians available all over Brantford and the surrounding areas who are experienced in repairing all sorts of washer problems. Give us a call and we will send a technician over to take a look right away.