Why Do Dishes Come Out of Dishwasher Dirty?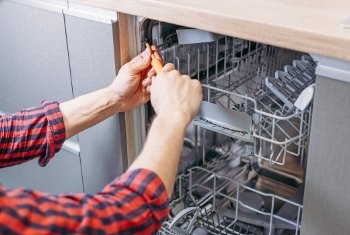 You have certain expectations when running the dishwasher. So, if dishes come out of dishwasher dirty, you're likely to feel very frustrated very quickly. If this is happening on an ongoing basis, it probably means your dish-cleaning workload has doubled. The dishwasher, after all, was designed to save time.
We can get it back to optimal functionality. HandiFix Appliance Repair can get to the heart of exactly why your dishwasher isn't washing dishes correctly. Whether the dishes are simply coming out with a bit of debris or grime, or if they look the same as when you put them, our technicians can get to the solution.
The Spray Arm
If running three cups of vinegar through an empty dishwasher on a long cycle doesn't de-clog your dishwasher, the spray arm could need some attention. This is the part of the dishwasher, as the name implies, that is responsible for distributing hot water to your dishes. If you open the dishwasher and look at it, you'll notice some holes. If these holes have become extremely clogged, or seem damaged in some way, we can take a closer look.
The Inlet Valve
Your inlet valve works at bringing the flow of water into your dishwasher. If something has happened to the inlet valve, the water flow is going to be compromised to one degree or another. In more serious situations, you'll get dishes that look like the water barely touched them.
The inlet valve takes a lot of punishment from one usage to the next. It can very easily become worn down or damaged as time goes on. We can make repairs or replacements if necessary.
The Filter
This possibility applies to anyone who doesn't have a self-cleaning dishwasher. If this the case, you're going to find a manual filter. This component is designed to trap any debris, such as food, that comes off during a cycle. If your filter is clogged, or even damaged, the dishwasher will just keep cycling dirty water around.
When dishes come out of dishwasher dirty, we can help. Contact us today for same day dishwasher repairs.