If The Dishwasher Doesn't Dry Dishes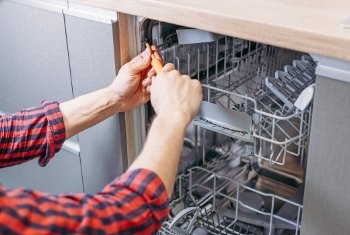 A dishwasher that isn't drying your dishes isn't the end of the world. However, if you rely on this feature as a time-saver, the frustration when the dishwasher doesn't dry dishes can start to mount very quickly. Your dishwasher is designed for efficiency and power. This should extend to every aspect of this appliance. That certainly includes a dishwasher that promises to dry your dishes.
At HandiFix Appliance Repair, we can figure out why your dishwasher isn't drying the dishes. There are several distinct possibilities that can be explored. Often, it is simply a matter of eliminating several small culprits to find the minor repair that is necessary.
The Vent
The vent is one of the most important components in this specific feature for your dishwasher. While your dishes are drying, it is likely that your dishwasher is using a vent to get rid of the hot air that comes about during the rinsing cycle. When this vent does not open as it should, a buildup of moisture can appear on your dishes. It is not impossible by any means for the vent to become clogged or damaged over time.
The Vent Fan Motor
Your dishwasher may have what is known as a vent fan motor. This component, as the name suggests, is in your dishwasher to help the dishes dry thoroughly after a rinse. When this motor fails, which can certainly happen to a dishwasher over time, the dishes aren't going to be dry when you take them out. We can perform a continuity test, as a means of determining whether or not the fan motor needs to be repaired or replaced.
The Heating Element
The dishwasher may utilize a specific heating element for the drying part of your cycle. This is another example of needing to perform a continuity test, in order to figure out if this is why your dishwasher doesn't dry dishes. Repairing or replacing the heating element, in the hands of professionals, is easy enough.
If any of these issues sound like they might be impacting your dishwasher, don't let the problem worsen. Contact us today to set up an appointment.
This video is only for education purposes. If you need professional dishwasher service, please contact HandiFix Appliance Repair directly at (647) 557-3032.