When The Dishwasher Is Leaking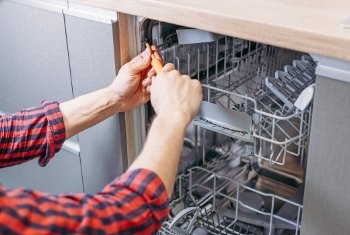 Your dishwasher goes through so much from one day to the next. In the event that it suddenly begins leaking, you don't want to let the problem go on too long. Even a minor leak can be annoying. Furthermore, if the dishwasher is leaking at all, there is a good chance that something needs to be addressed as quickly as possible.
Our dishwasher technicians at HandiFix Appliance Repair can help. A leaky dishwasher can be caused by a variety of different factors. More often than not, the repair or replacement work involved is going to be simple enough. What matters is figuring out the problem quickly, and then getting to the work involved as efficiently as possible.
The Gasket Is Leaking
The gasket can be found along your door. It is essentially responsible for keeping everything inside the dishwasher from getting out. As you can imagine, this gasket is exposed to an extraordinary amount of stress from heat, moisture, and more. While designed to handle those things, it can eventually become worn down or damaged over time.
The Door Latch Has Become Faulty
This is another common reason for a leaky dishwasher. It is also another example of a simple enough fix when left to the experience of professionals. As the name no doubt implies, the door latch is responsible for keeping the dishwasher fully closed during the wash cycle. If the latch has become loose, damaged, or even broken, closing the dishwasher fully won't work.
The Hoses/Valves Have Become Defective
If the water is coming out directly from under the dishwasher, then neither of the suggestions we covered above are going to apply. What has likely happened is that your water hose or valve has become damaged or disconnected. Checking the hoses and valves also come with the benefit of being able to check other areas of the dishwasher. This includes your water inlet valve, recirculation hose, drain hose, and more. If the options discussed above have been considered, your problem will likely be found in this area.
If your dishwasher is leaking, contact us today to get started with an inspection of your current situation.
The video is only for education purposes, and please contact HandiFix Appliance Repair to seek professional dishwasher repair help.