Why Your Dishwasher Smells Bad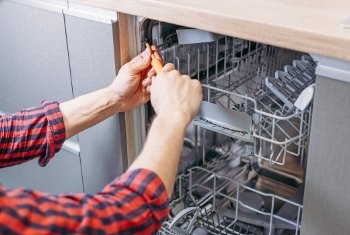 Have you ever opened your dishwasher, only to be greeted by a decidedly unpleasant smell or odor? If you answered yes, then you know exactly what it's like when the dishwasher smells bad. This is typically an odor that could be best described as "fishy." It can vary from being slight, to something that completely overwhelms the kitchen when the dishwasher is opened. Either way, this is a common dishwasher problem. One that should be dealt with as quickly as possible.
This is because your dishwasher is likely experiencing a serious clogging issue. If too much food, dirt, and debris is getting stuck in the system, things are going to suffer. This can include the overall functionality of the dishwasher itself, but it can start simply enough with a bad odor that emanates from the appliance.
At HandiFix Appliance Repair, we can figure out exactly what's wrong.
The Filter
The filter is very likely to be the reason why your dishwasher has a bad smell. Your filter needs to be serviced and maintained on a semi-regular basis. Like many other parts of the dishwasher, it is very easy for this component to pick up a lot of gunk, soap suds, and other undesirables over time.
In situations such as these, we're going to take a look at the filter itself. This may involve having to remove the filter for repairs, cleaning, or even a full replacement.
The Dishwasher Interior
If the filter is not the issue, then it could simply be that the entire machine itself has become too clogged up with food and dirty water. These things can get into the gaskets and other places throughout your dishwasher, causing a plethora of unpleasant problems and odors. We can take you through the steps involved in getting rid of all this stuff. This in turn should get rid of any problems you might be having with smells.
Regardless of why your dishwasher smells bad, we can help. Remember that this could be an underlying cause of a much more serious issue. When you notice the smell, don't hesitate to contact us for an appointment to check things out.
This video is only for education purposes. If you need professional assistance, please contact HandiFix Appliance Repair directly at (647) 557-3032.