If The Dryer Doesn't Properly Dry Clothes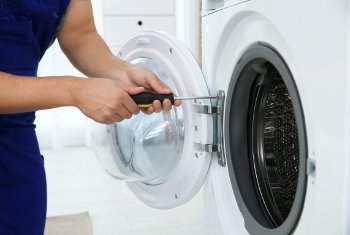 The function of the dryer is pretty simple. It dries your garments and other items to one degree or another. You are obviously in control of that degree. However, if your dryer doesn't properly dry clothes every single time, you have a problem. The issue likely comes down to one or more parts in the appliance beginning to fail. Parts do not have to completely die, in order for your dryer to be affected. In many situations, the parts will simply begin to fail, and the performance of your dryer will begin to suffer as a result.
If you keep your dryer clean and well-maintained, and it continues to put out disappointing results, our dryer experts can help. HandiFix Appliance Repair offers experienced technicians, the necessary parts and tools, and everything else to get your dryer working properly again.
The Dryer Timer
Located on your control panel, the dryer time is obviously the component that lets you dictate the length of time for a cycle. The motor of the timer can be found on its back. This motor works in conjunction with other parts of the dryer to start the process of heating your garments. If this motor has become damaged or even broken, the dryer may not start at all. In some situations, it may only run sporadically.
The Dryer Thermal Cut-Off Fuse
Safety features can be found on your dryer in a variety of ways. The dryer thermal cut-off fuse is a good example of this. Without this cut-off fuse, the dryer would simply continue to get hotter and hotter, as the dryer element starts overheating. This can be highly dangerous. If there has been any damage or worse to the fuse, the dryer probably won't start at all. The high-limit thermostat will almost certainly need to be replaced, as well.
The operating thermostat is another feature that's designed to regulate temperature. Without it, either the dryer won't dry your clothes properly, or it won't start at all.
When the dryer doesn't properly dry clothes, contact us for an appointment. We can diagnose and correct the specific component causing this problem for your dryer.
The video is only for education purposes. Please contact HandiFix Appliance Repair if you need the professional help.