When The Dryer Is Vibrating Too Much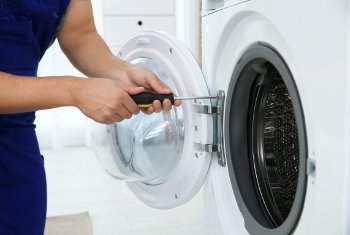 When your dryer starts vibrating, the first thing you should do is check the drum. That would be all your clothes get tossed and turned under varying degrees of heat. If the dryer is vibrating, it could very easily be an item that fell out of a pocket. It could be a heavy zipper. Check the drum for items, before you assume the vibrations are coming from a faulty or worn-down part.
HandiFix Appliance Repair can take a look. Our dryer technicians can quickly address and make repairs to any dryer which vibrates during operation. A minor degree of movement from the dryer is generally acceptable. However, if the vibrations have become significantly loud, with heavy movement from the dryer during operation, something should be done as soon as possible.
The Dryer Blower Fan Blade
Connected to the drive motor shaft, your dryer blower fan blade spins to move air throughout the dryer. This is naturally quite important. Unfortunately, the dryer blower fan blade can become damaged over time, due to heavy use. In the event the blade is indeed damaged, you will begin to hear a rattling or banging noise. If the blade is to blame, it should be replaced.
The Dryer Drum Support Rollers
Check the drum inside your dryer. Does it sag? Is it not rotating as smoothly as it should? If you answered yes to either or both of these, there is a good chance that the drum support rollers have become damaged. The shaft or fasteners may need to be adjusted. In some cases, it is simply a better idea to have the rollers replaced completely.
The Dryer Idler Pulley
This particular part is responsible for maintaining tension for your drive belt. A minimum of friction is necessary to ensure the grip of your belt on your motor and the drum. If the idler pulley has become damaged, which is possible, you should hear a distinctive squeaking sound. If there is damage, it needs to be replaced as soon as possible.
We can handle any replacements if the dryer is vibrating. Contact us today to make an appointment for an inspection.
This video is only for education purposes. If you need professional assistance, please contact HandiFix Appliance Repair directly at (647) 557-3032.