If Your Dryer Won't Turn On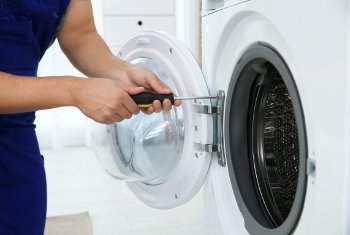 A dryer that suddenly won't start up can induce panic. You just checked to make sure the door was properly closed. Everything is plugged in as it should be. If your dryer won't turn on, you'll wonder what's wrong.
The bad news is that there is no easy answer to this question. A dryer that suddenly stops working can come from a variety of different sources. The dryer is after all made up of many different vital parts and components. If even one of these things becomes faulty, your dryer can suddenly stop working altogether.
HandiFix Appliance Repair can address this tricky issue efficiently and safely. Our dryer experts can break down every possible reason as to why a dryer stops working, in order to figure out exactly what the problem is.
The Dryer Door Switch
If the dryer door doesn't seem to be shutting properly, it could indeed be the door that's causing your problems. More specifically, it could be that the dryer door switch is in need of repair or complete replacement. Checking the door switch itself, you may find that it has become warped, damaged, or even broken. Without your dryer door switch, your dryer isn't going to start at all.
The Dryer Thermal Fuse
Your thermal fuse is responsible for detecting temperature in the air moving from the dryer to the outside. If this air becomes too hot, which can create a variety of dangerous problems, the dryer thermal fuse will react. If it has reacted, it will probably need to be replaced. Even if the dryer cools down, the dryer thermal fuse isn't going to reset.
The Dryer Drive Motor
Without the drive motor, the motor shaft, responsible for rotating the idler pulley, isn't going to work. This motor is ultimately not only responsible for rotating the drum of the dryer, but it also probably moves the blower fan blades, as well. If the drive motor for your dryer is beginning to fail, you may notice your dryer shutting down in the middle of a cycle. The motor will need to be replaced, if this is why the dryer won't turn on.
Contact us today for an appointment.
This video is only for education purposes. If you need professional assistance, please contact HandiFix Appliance Repair directly at (647) 557-3032.