When The Washer Is Leaking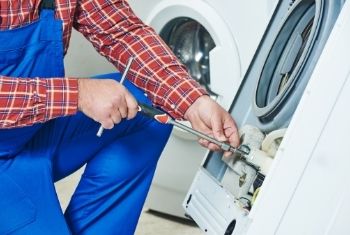 A leaky washing machine is just about the last thing in the world anyone wants to deal with. To say nothing of the mess that you often find on the floor, when the washer is leaking, this also sends the message to you that something is very wrong with one of your most important appliances. This is not necessarily true. While there are many different causes for a washing machine that won't stop leaking, most of these culprits come with fairly straightforward solutions. This is particularly true when the work is left to experienced, licensed, and certified technicians.
At HandiFix Appliance Repair, we troubleshoot and repair any washing machine from any manufacturer which happens to be leaking. Whether it is a minor lake, or something that leave sporadic lakes in your laundry room, we can determine the problem in short order.
The Hoses
The drain hose and fill hose for your washing machine could be causing the leak. While the drain could be experiencing a substantial clog, or something else that is causing it to back up, the solution could be as simple as one of these hoses needing to be tightened. The internal hoses, which are connected to the tub of your washer, are also worth looking at in these situations.
The Pump
Your water pump is responsible for draining water from the washer. The belt for your pump, if you have one, may be worn down and in need of repair/replacement. There are a number of different issues that can impact your pump specifically. If anything gets in the way of this part's ability to do its job, the odds of a leaking washing machine rise considerably.
The Water Inlet Valve
Damage or anything else to your water inlet valve is a common culprit for many issues with a washer. In the specific case of when the washer is leaking, remember that the inlet valve is responsible for moving cold and hot water through the washing machine. Damage can cause the inlet valve to become faulty.
Regardless of the specific reason, HandiFix Appliance Repair can determine exactly what's wrong. Contact us today for an appointment.
This video is only for education purposes. If you need professional assistance, please contact HandiFix Appliance Repair directly.