Why A Washer Makes Strange Sounds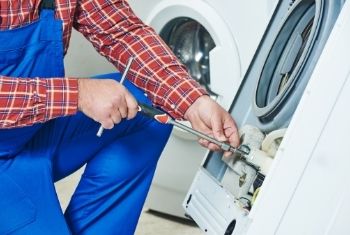 It is obviously easy to spot a washer making weird noises. You no doubt know most washers sound, so when your washer makes strange sounds, you're going to notice that immediately. The washer obviously goes through a great deal from one day to the next. If your washer is making odd, annoying sounds and noises, it is probable that one part or another has become worn down. This is often the most common reason for a washer behaving in this fashion.
The challenge on your end is to figure out exactly which part might be causing this issue. That is where we can come in. At HandiFix Appliance Repair, we have all the experience and equipment necessary to determine the strange sounds coming from your washer.
While Spinning
First of all, make sure there aren't any loss items in the washing machine. This includes stuff like coins, small toys, and similar items. The next step is to pay attention to when the washing machine makes strange noises in the first place. For example, if these sounds occur while the machine is spinning, it could be the filter. Believe it or not, but your washing machine also has a filter. When items block or damage it, the filter can begin to make a lot of noise. The lint filter/trap could also be to blame.
While Agitating
The drum bearings are one of the parts to your washing machine that endure a great deal of stress through the years. It is not at all unreasonable for these drum bearings to become worn down, or even break. If the drum bearings are not to blame for strange noises, we may need to take a look at the pulley.
While Filling With Water
The inlet valve is one of the most important components to a washing machine. It can also become faulty over time. If your washer makes strange sounds during the part of the cycle where water fills the machine, there is a good chance that we're going to need to take a look at your inlet valve.
No matter what, we can help. Contact us today.
This video is only for education purposes. If you need professional assistance, please contact HandiFix Appliance Repair directly at (647) 557-3032.