Is Your Water Dispenser Not Working?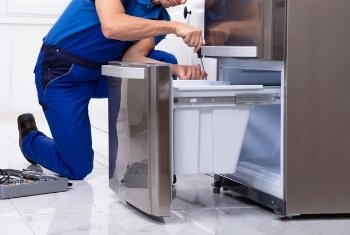 If you have a water dispenser included with your fridge, there's a good chance that it's one of your favorite features.
However, if you find your water dispenser not working, it doesn't mean the feature is permanently disabled. The water dispenser is connected to everything else concerning your fridge. If the dispenser specifically isn't working quite as it should, meaning you aren't dispensing water or ice, then the problem is almost certainly somewhere else.
All of these problems are an easy enough fix with HandiFix Appliance Repair. Let's cover some of the more common possibilities for a faulty water dispenser.
The Micro Switch
If you have a micro switch on your dispenser, understand that it can be prone to cracking, breaking, or even completely falling off. It can also just become faulty. This is a minor problem, to be sure, but it really could be as simple as that.
The Dispenser Control Board
When we're talking about the dispenser control board, we are talking about the component responsible for controlling the water and ice. It can also display information. In situations where the control board is not responsive, there could be problems with the circuit board.
While you can check for burns in the circuit board yourself, keep in mind that we can inspect and repair this much more quickly, if that is indeed the problem. A popped capacitor is very often the problem in this situation, and it is an easy enough repair by our fridge technicians.
Internal Wiring
In situations such as these, diagnosing the problem can be extremely difficult on your end. There could be an issue with the wiring, as easily as there could be an issue with the harnesses themselves. There could be a disconnected wire harness that means you have a water dispenser not working.
We can check for faulty wiring easily. Our experience extends to issues ranging from low water pressure, to a water inlet valve which needs to be repaired or replaced altogether. For these issues, or for anything else getting in the way of your water dispenser functioning as you need it to, we can be there.
Contact us today to make an appointment.
The video is only for education purposes. Please contact HandiFix Appliance Repair if you need the professional help.