Oven Repair in Hamilton
Professional Oven Repair Services in Hamilton and the surrounding areas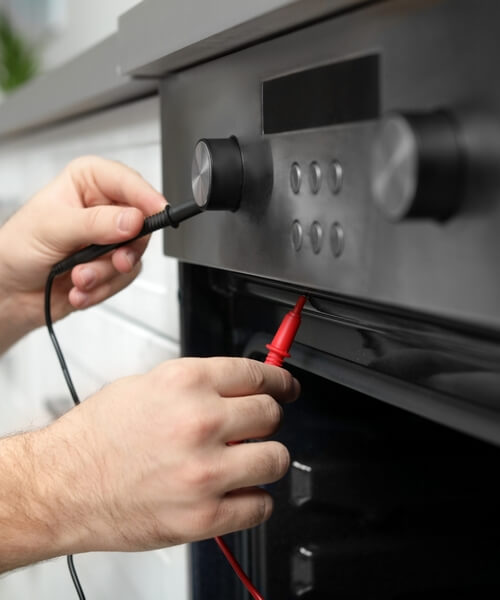 Without an oven, cooking the perfect roast or baking scrumptious cookies would not be possible. Indeed, it would be incredibly difficult to go about your day regularly without an oven. Ovens today have even more features and settings that make cooking a breeze. When your oven stops working, it can be more than just inconvenient. This is why speedy oven repairs are so important. This is why you're going to want to get in touch with our expert technicians. At HandiFix Appliance Repair, we offer fast same day service anywhere across Hamilton and the surrounding areas.
Why Choose Us For Oven Repairs
We offer great same day service for all oven repairs in Hamilton and the surrounding areas.
We also arrive prepared with tools and parts to perform repairs on the spot
Your satisfaction is our prime concern. Your needs are our priority, and we focus on providing quality repairs at an affordable price.
HandiFix Appliance Repair is the best place to go for all of your dryer repair needs! We have a team of experienced professionals who are dedicated to providing you with the highest quality service possible. We understand that when your dryer isn't working, it can be a real hassle. That's why we work hard to get your appliance back up and running as quickly as possible. We also offer competitive rates, so you can rest assured that you're getting the best deal around.
If your oven won't turn on or you notice any other fault, it's always best to call a professional repair technician. HandiFix Appliance Repair technicians are experienced and trained to work on ovens of all brands. No matter the problem, you can be sure that our team will resolve the matter in no time.
Same Day Oven Repair
As a family-owned appliance repair company, HandiFix Appliance Repair understands how important it is to keep appliances running. When it comes to your oven, fast appliance repairs are as essential as they get. Our same day service will have you cooking again before you know it.
Reliable Hamilton Oven Repairs
When you need to have your oven repaired, quality repairs are of utmost importance. The last thing anyone wants is to have their oven repaired only to have it break again. For oven repairs, you can rely on call HandiFix Appliance Repair.
Trained Oven Repair Technicians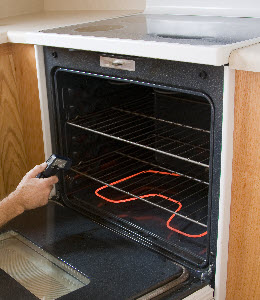 The best oven repairs are performed by trained and experienced professionals. Our Oven Repair technicians have the experience and training required to repair all brands of all household appliances. Our expertise means that we are able to perform skilled repairs promptly every time.
Most Common Oven Problems
Ovens are pretty durable appliances overall. That being said, it is not immune from small and big issues. You can do things like cleaning your oven regularly and inspecting your oven regularly, but issues will pop up from time to time. Luckily, our technicians are only a phone call away. We can fix any issue with your oven, including:
Temperature regulation issues (the oven temperature is completely inconsistent)
Your oven won't turn on (issue varies depending on the brand of oven)
Oven is not cooking meals properly
The door is not aligned properly
The door does not close properly
Oven interior light is not working
Oven won't heat to the right temperature
It's recommended that you check your electric supply before calling a technician. If the power supply for your oven is in order, then the problem is best determined by a professional.
Call our qualified oven repair experts at (289) 426-5156
Oven Brands We Repair
If your oven is not working as it should, then we are the experts to call. We have a lot of experience with all oven brands, so you know that we can repair yours. Here are the brands that we can repair:
Oven Repair Questions
There is no doubt that fast repairs are essential when your oven breaks down. Without a reliable oven, cooking your favorite meal is impossible. When your oven needs repairs, you will most likely be faced with a few questions. Here are some of the most common oven repair concerns:
Q: When will a technician arrive to fix my oven?
A: Time is probably one of your main concerns and, at HandiFix Appliance Repair, we always aim to keep any inconvenience to an absolute minimum. This is why we offer same day service throughout Hamilton and the surrounding areas.
Q: Which Hamilton areas do you serve?
A: We provide our oven repair services all across Hamilton and Surrounding areas.
Q: How soon will my oven be repaired?
A: Our technicians at HandiFix Appliance Repair will arrive within the same day. We always arrive prepared with tools and parts in order to speed up the repair process. Our goal is to perform the initial diagnosis and complete repairs during our first visit.
Q: Can I use my oven even while it's faulty?
A: If your oven is not working perfectly, it's best to avoid use until the problem is resolved.
Q: Can you repair an oven in cabinet set up?
A: Finding a quality appliance repair service that has the experience and knowledge necessary to repair an oven in cabinet setup can be difficult. However, technicians at HandiFix Appliance Repair specialize in the repair of any make or model of oven in cabinet setups.
Q: Are the technicians at HandiFix Appliance Repair licensed?
A: We are all about creating a professional and trusting relationship with our customers which is why we make sure that every appliance technician that works for us is both licensed and certified so you can feel at ease with them working on and repairing your appliances.
Q: How much will my stove oven cost?
A: Determining the pricing for oven repair is difficult. We first have to find out what the problem is, if any new parts are required, and how long the repair took before we can provide pricing details. We do, however, offer the best service possible at the fairest prices as well as providing a free service fee with all repairs.