Dryer Repair in London
Same Day Dryer Repair Service in London and the surrounding areas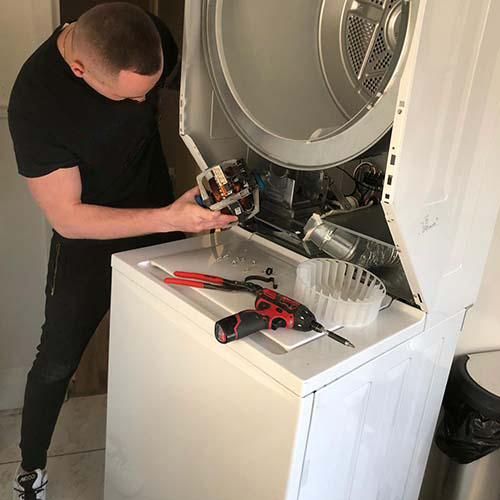 Once your laundry has made its way through the wash cycle, the only thing left to do, before ironing and packing away, is drying. Without a dryer, this process can take several days, and it can mean that you have to wait extended periods of time for your favorite outfit to be ready to wear. When your dryer needs repairs, time is certainly one of the most important factors. At HandiFix Appliance Repair, we provide same day dryer repair service throughout London and the surrounding areas which means that you will get to use your dryer again before you know it.
Why Choose Us For Dryer Repairs
HandiFix Appliance Repair technicians have the necessary qualifications and experience required to perform professional, reliable dryer repairs.
Our team is available for same day repairs and we also always arrive prepared with the right tools and various parts. Our goal is to complete repairs during our first visit.
Your satisfaction is our number one priority. In order to keep all of our customers happy, we focus on providing fast, professional, and affordable appliance repair services.
When you need fast dryer repairs by prompt professionals, look no further than HandiFix Appliance Repair. Our team of technicians is experienced in working on all brands of dryers, and we always pay attention to the finer details when performing any dryer repair.
Dryer Repair Experts You Can Trust
Our family-owned appliance repair company takes great pride in offering reliable dryer repair services. We understand the value and importance of every household appliance and how important it is to find a repair technician you can trust. Not only do we perform quality work, but we also stand by our repairs through our 100% satisfaction guarantee
London Dryer Repairs
When your dryer stops working or when you notice any faults in the way it functions, it's time to call HandiFix Appliance Repair. Our technicians are available throughout London and the surrounding areas for your convenience, and we always come prepared to diagnose and repair broken dryers during our first visit.
Experienced Dryer Repair Professionals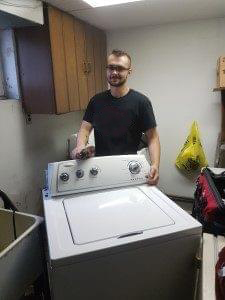 Dryers have become even more advanced and reliable over the years. That said, they still require repairs at some point. The regular wear and tear takes its toll on various parts of this appliance, and it's understandable for these parts to require replacement eventually. Whether the problem appears to be minor or serious, it's important to call a professional technician right away.
Most Common Dryer Problems
There are a number of problems that could impact your dryer's performance. You can attempt to avoid issues with regular maintenance, like cleaning your dryer and emptying your lint trap. That being said, it is sometimes difficult to avoid problems with your dryer, like:
The machine is not turning on
It is not getting warm after starting a cycle
It is not spinning after starting a cycle
It is making strange noises or is too noisy
It is getting too hot during a cycle
Has a bad smell
Dryer is vibrating too much
Dryer won't heat up
Dryer doesn't properly dry clothes
Dryer doesn't complete a cycle
Call Our Dryer Experts Today (519) 783-0985
Dryer Bands We Repair
We have worked with many different types of dryer brands over the years. We encourage you to get in touch with our technicians if you need repairs for any of the following dryer brands:
Dryer Repair Questions
When you notice any problem with your dryer, prompt action is the best solution. Of course, when faced with this situation, you are bound to have several questions. Here are a few common questions related to dryer repairs:
Q: When will a technician arrive?
A: HandiFix Appliance repair technicians offer same day service. The sooner you call us the sooner our expert team of technicians will arrive anywhere in London and the surrounding areas.
Q: When will my dryer be fixed?
A: Our same day repairs mean that our technicians will reach you within a few hours. Upon our arrival, we always aim to complete repairs during our first visit. This is why we ensure that our van is fully stocked with parts and tools for the task at hand.
Q: Should I use my faulty dryer in the meantime?
A: When your dryer experiences any kind of fault, it's best to avoid use until a professional performs an investigation and any necessary repairs are complete. Ignoring warning signs will only make matters worse, and your repair costs will exceed initial expectations.
Q: Do you also provide dryer maintenance services?
A: At HandiFix Appliance repair we do offer dryer maintenance service as well. We will come to your home and disassemble your dryer to take out and built-up dirt or debris that has built up in the vents. We will also inspect the entire machine to ensure that it is working to the best of its ability.
Q: Are the technicians that work for you licensed?
A: We understand that your appliances are expensive and a crucial part of your day to day life so you naturally only want the best working on them. All of our technicians are licensed and certified so you can trust them with your appliance repair needs.
Q: How much will my dryer repair cost?
A: Each appliance repair will have a different rate due to the varied nature of each appliance and issue. However, we offer our quality appliance repair services at great prices, always keeping your budget in mind by providing affordable pricing and free service fee with all repairs.